ABOUT US / STORY
Established in 1999, Jetmol is an innovative company specialized in the development and manufacture of plastic injection molds.
The predominant manufacturing sector is the automotive industry, exporting 90% of its products to countries such as Spain, France, Czech Republic, Romania, United Kingdom and United States. Jetmol guarantees high quality products to its customers through the use of the most sophisticated technologies in the field of engineering and mold production.
In order to expand its business, Jetmol is completing the construction of a 1300 m2 pavilion in the Parque de Negócios de Escariz, Arouca, with the capacity to produce molds of approximately 10 tons.
MISSION
Our mission is to develop and produce molds for injected plastic and injection molding of superior quality, with shorter deadlines, ensuring the sustainability of the business and solutions tailored to the needs of our customers.
VALUES
Jetmol does not abdicate values such as competence, transparency, humility and rigor of all those involved in the Mission and Vision of the company. It recognizes and values relationships with customers, suppliers and partners, believing that good relationships are the result of constant monitoring and availability.
EYESIGHT
To be recognized as a reference company in the mold industry, for the solutions presented and for the competence of its team, creating value and recognition for all stakeholders.
TEAM
All our staff
Jetmol counts on the collaboration of a young and dynamic team, 100% committed to the path that the company intends to draw.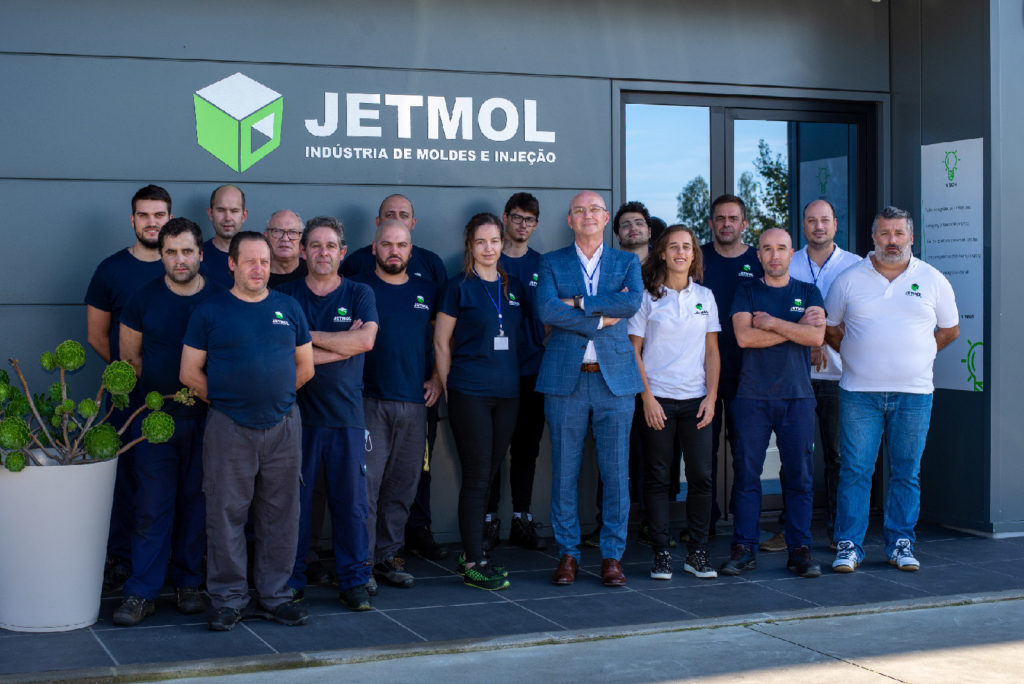 A BIG THANK YOU
To the whole team, customers and suppliers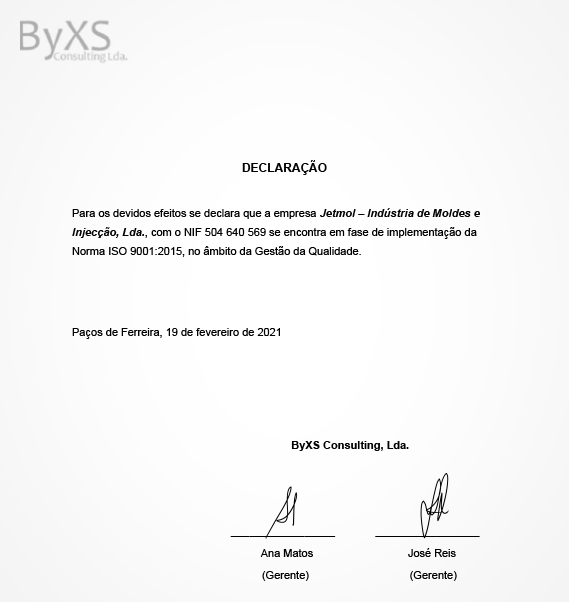 QUALITY POLICY
JETMOL understands that the quality of its products is essential for the sustained development of the institution, investing in continuous improvement, in order to guarantee the satisfaction of its employees, customers and suppliers.
Therefore, JETMOL is committed to manage it's organization for the implementation and development of a management system in accordance with the requirements of the NP EN ISO 9001 standard, being guided by the following principles:
Customer satisfaction and loyalty.
Employee Participation.
Supplier Partnership.
Continuous improvement of our products and internal operations.
Compliance with current legislation.